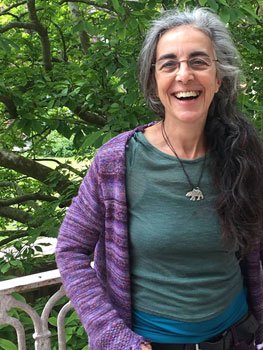 Marisa Picardo is Priestess of Rhiannon, a therapist, healer, Soul Midwife/End of life Doula and celebrant. She walks Rhiannon's path of love. She is a Temple Melissa and Temple Drummer and holds Sacred Sound Baths and Song Circles. She regularly Priestesses in the Temple Seasonal Ceremonies. She has been a Circle Priestess for the Conference; previously she has enjoyed the 'love in action' role of a Melissa.
Marisa is trained in many different lineages. Her healing work is supported by teachings from hypnosis, NLP, cognitive therapy, reiki, the shamanic medicine wheel, Thich Nhat Hanh teachings and sexual and emotional healing. She worked as a Registered Mental Health nurse for 28 years and now focuses predominantly on her priestessing and healing roles.
Marisa is based here at Goddess House as a healer, offering various range of body work from  Swedish massage, Hawaiian Lomi Lomi, Indian head massage, Traditional Thai foot massage, facials to deeper Emotional healing/cathartic release and Abdominal Sacral Massages and the ancient treatment of Yoni Steams. She weaves the magic of healing sound baths alongside her massage treatments. She also offers talking/listening therapy.
As part of the wider community, she regularly holds Death Cafés Glastonbury,  Sacred sound baths, drum and song circles, co co-ordinates the LGBTQ meet-ups, and works as a volunteer as a companion for Marie Curie. Along with her Rhiannon sisters, she facilitates the Red Tent Moon Lodge in Glastonbury. She co-founded the Goddess Temple Funerals and End of Life care, launched in 2018. She also offers walking tours locally. She is a lover of the land, walks the land of Avalon and afield and will go out and regularly create gratitude ceremonies in all her forms.
Save