Goddess Centred Healing
(available most days)
We offer a range of energetic healing practices which allow Goddess's healing energy to flow between healer and client to aid and improve health and well-being. Some of these eneergy treatments can be offered online, please ask reception for more info.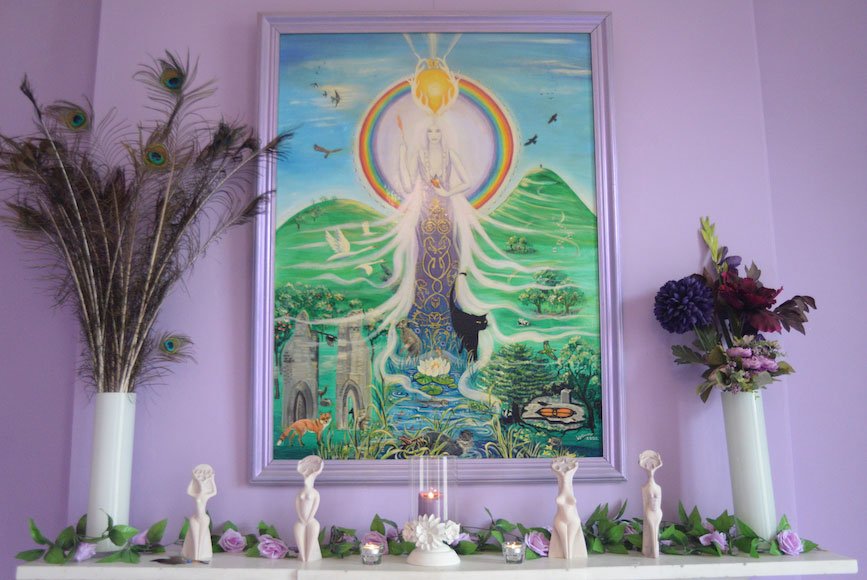 Goddess Soul Healing
This is a Shamanic inspired Soul Healing, working with the energies of the Lady of Avalon to release old stuck energies, bringing in Her fresh Healing energy to support your body mind and Soul.
Deep Soul Healing with Anna-Saqqara, Kathy, Katie & Mandie
Connect to the calm centre of your soul and to the healing energies of Goddess – the Lady of Avalon – in a deep Shamanic style,  using drums, rattles and voice. Connect your soul to receive the healing love of Goddess to open the heart, heal the body, emotions and mind, and assist in expanding your consciousness.
60 min £ 75
90 min £113
120 min £150
Chakra Balancing
Energetic healing to revitalise, clear and balance the Chakras. Great for releasing heavy dense energies that are blocking your chakras and causing ill health, balances body mind and soul
Reiki Healing
An ancient, natural form of hands-on healing that enhances all aspects of life, unblocking energy, allowing it to flow freely and rebalance the body in a positive way.
Guided Meditations
(can also be offered via Zoom from The Goddess House)
Guided visualisation to meet Goddess, with a Priestess of Avalon
A beautiful, bespoke guided journey to meet Goddess to receive Her healing gifts, and inner wisdom to receive messages to help you on your life's path.
Goddess Love Bubble, with a Priestess of Avalon
A guided visualisation with movement and sounding to assist in the clearance and energizing of your Chakras, empowering your Auric Field and sending Goddess love and healing to family, friends and the world.
Yoga/Yoga Therapy with Louise
Gentle Yoga with Guided Relaxation (1:1/1:2)
1:1/1:2 Yoga Session (all abilities)
Chi Nei Tsang with Ambika
Experience a 5,000-year-old Taoist Qi Gong practice that focuses on balancing and harmonizing internal energies through vital organ massage. This ancient technique aids in relieving energy stagnation, detoxifying the body and rejuvenating vital organs.
Therapist Specials and Goddess Soul Healings
Amazing specialist treatments offered by our Goddess House Priestess Healers.
Goddess Soul Wisdom with Anna-Saqqara, Priestess of Avalon
A deep bespoke embodied guided journey to meet the Goddess of your choice and Crow Morgen Goddesses, using light  language and sound, to help release old programmes and patterns that may be blocking your ability to manifest abundance / love / your soul's purpose. This can help empower your deep soul connection with Goddess, and you will receive personal healing and messages from your guides / guardians and Goddesses as embodied by Priestess Anna-Saqqara. This can be in person or remotely, via Zoom.
Soul Essence Healing Journey with Anna-Saqqara, Priestess and Soul Support Systems Facilitator
A deep initiatory Soul Healing – great for times of intense change, trauma or just deepening your soul connection. These individually focused treatments combine deep releasing through emotional release, chord cutting or chakra alignment. This clears the body of old stuck dense energy. You will journey to the original soul experience and clearing this core trauma, thus freeing you from repeating these patterns. You then journey to the Soul Creatrix Mother Goddess to reconnect with the source of your soul's blueprint and ground it back into your body. This is a very deep initiatory journey enabling you to live more fully, shining and embodying your soul's original essence and purpose.
Bright Shiny Soul Healing Sessions with Priestess Rachel
This is a beautiful bespoke session whereby you are guided to up-level and attune to the sacred essence, wisdom and power of your soul, Spirit and the Divine within you. Through Spiritual coaching and a multi-dimensional guided journey, channelling, healing, transmissions and activations you reconnect deeply to your Soul, Spirit, Source, Mother Earth and your own team of holy beings such as Goddess, Archangels, spirit guides, healing guides, animal guides, angels, ascended masters, ancestors and departed loved ones. You are invited to experience transformational healing frequencies and guidance from them directly for your mind, body, heart and soul to assist you in your spiritual leadership.
Multi-dimensional Soul Healing and Guidance with Rachel, Priestess of Avalon
Multidimensional Healing is whereby you are guided to activate deep healing and integration for mind, body, heart and soul through profound soul connection and wisdom across time and space. Receive healing, messages and transmissions and spiritual coaching about any area of this life or relevant past lives from the Divine, Goddess, Archangels, your soul and your own team of guides, angels and departed loved ones.
Isis Lotus Healing with Anna-Saqqara, Soul Priestess of Isis
Hands on energy Soul healing, connecting Soul to Soul, Anna welcomes in Isis to assist your soul in releasing and transforming old dead dense energy. Allowing the Egyptian Goddesses Isis, Sekhmet and Hathor to bring through their loving presence to support and nurture your soul, body and mind – through light language and energy work.
Crystal Healing
Crystals are carefully chosen depending on your needs and are placed on the key energy centres of the body, aiding the body's natural vibration healing abilities to clear and shift stagnant energy and amplify good health. A great treatment for balancing the chakras and clearing the etheric field and outer body for renewed energy health and vitality.
Cerridwen Swynwraig (Wise Woman) Healing with Priestess of Cerridwen
Celtic druidic healing with Earth Mother guidance, gaiamancy for the body, using soul connection to feel obstacles and obstructions to energy flow (nwyfre), removing them and strengthening the seven energy bodies. Hands on healing, recovering soul purpose and guiding back to the path.
Avalon Soul HealingTM with Bee, Priestess of Avalon & Cerridwen
This soul healing is based on Dion Fortune's work, using visualisation, path working, consciousness mediation and energy flow weaving, to reach the shadow part in you from which unhelpful thoughts and feelings rise, and contra-indicated life choices are made. Removal of external and internal negative thought forms and shadow entities. Mitigation of negativity, filling energy voids with the love of the Goddess. Connection to your Ancestors, Guardians, Spirit Guides to aid your path onwards.
Emotional Release Bodywork Sessions
Jerome works with physical, emotional and spiritual healing to go deep into the emotional body and subconscious mind. Using touch, sound and crystals Jerome helps you recognise and dissolve old, painful, negative belief patterns, emotional blockages, past trauma and pain.
Shungite Empowerment Coaching with Priest of Isis, Jerome
Jerome guides you into the hidden power of Shungite and the "Shungite Inner Coaching Way" to Deep Soul Connection and self-mastery… Learn how to fully express the Mastery of your Inner Being.. Activating the Spiritual Power of your voice to fully arrive, transmitting your true authentic Soul Sound…You will discover the raw power of many different crystals to help enhance your Light Body and expand your Chakras. Discover the special power of Shungite to clear your field, ground and augment your personal power, & strengthen your Chakras.. and mental and emotional bodies…
Alchemy Sound Bath
Deeply relaxing sound bath with singing bowls, chimes, ting haws and gong, quieting your body, mind and chakras.
Sound Healing with Tibetan Singing Bowls, with Louise
With bowls placed on and around the body, the sound penetrates deep into the cells to heal mental and emotional stress and help a range of physical conditions. Used for chakra cleansing and strengthening.
Goddess Sound Healing Ceremony / Sound Bath with Priestess of Avalon, Elsa
This brings you into deep connection with the Goddess, creatrix of the Universe and of all life. In this ceremony you will receive the blessings of the Goddess through the messages that your soul is asking to receive from Her at this time. The Goddess and other Divine Beings using sacred sound instruments such as pure quartz crystal singing bowls, koshi chimes, gong, spirit drum, and her singing voice. The Priestess will use sacred sound to bring through the voice of the Goddess, and Her embodiment as the Lady of Avalon, Great Goddess of the Sacred Isle of Avalon. (Group sessions are possible)
These are offered only to groups – enquire for prices
Vocal Empowerment Sessions with Elsa, Priestess of Avalon
Vocal empowerment work can help you release old ties, blockages and patterns.
In a session you will discover an embodied path of healing your voice. 
Using a combination of powerful visualisation practices, breathwork and voicework, you will learn to uncover, and gently release, any emotional blockages you have in using your voice.
These are offered only to groups – enquire for prices
Selkie Deep Soul Healing Journey
A Deep Soul Healing session working with the legends of the sea women who took off their seal skins to dance on the land. Working with your soul's energy we will journey to the deep ocean and join the magical selkie seals to retrieve your soul skin and your wild creative core. Nourishing the parched parts of your soul, calling you home and leaving you calm and re-energised. A full day retreat version of this session is also available upon request.
Maiden Mother Crone Healing with Annie, Priestess of Avalon
This treatment offers deep healing through the use of ceremony and intention, where we journey together to reconnect the thread of our divine feminine lineages. Through the use of womb massage, body work and energetic healing we can then integrate those parts of ourselves into our bodies once again and form a connection to the mother line, through the womb of the divine feminine within.
Deep Wisdom Healing with Annie, Priestess of Avalon
A beautiful, nourishing healing to connect to the deep wisdom held in the body. This combines a Priestess Blessing with body reading, aromatherapy massage, soul healing, and Motherline healing.
Past Life Regressions with Vicky
Regression Therapy is a useful tool in gaining understanding, clarity and peace of mind around particular issues. Some of the reasons you might seek Past Life Regression are:
Unusual connections to places, people, cultures
Phobias and / or fears / Re-occurring emotional issues or patterns
Re-occurring dreams / Unexplained health issues / Curiosity
Tending your Beloved Heart with Hannah
Tending your beloved heart, the shamanic heart illumination technique, places you in the sacred container of the divine ecosystem of Gaia through the medicine wheel and the temple of Devotion. This allows safe surrender into the awareness of your beautiful heart as the temple of your soul. We can then clean your heart temple of denser energies that no longer serve you, allowing you to make space to receive more radiance and beauty into your life. Working with the inner beloved of this temple, through devotional mantra and sacred oils, we will tend to and honour your wounds and help restore your connection to the beauty all around you and within you, in this dance of living energy and love.
Soul Mending with Hannah
This is Hannah's beautiful work of Soul retrieval. This can come after tending your beloved heart (recommended) or can stand alone as an offering.
Working with your hiridya, the sacred temple of your heart where the seat of your soul resides, Hannah will offer a safe space to journey with the medicine drum to bring back any parts of your soul that have become fragmented back into your heart temple. Bringing the parts of your soul that have experienced soul loss through trauma or shock back home into your loving heart. Assisting the unconscious to become conscious again and gifting you with a beautiful soul medicine story on your return. A beautiful offering for this time of awakening to the depth of who we really are.
Deeply Holy Anointing with Hannah
A beautiful deep anointing session with the transmission of the holy oils of the temple through the Myrraphore lineage, the path of love and compassion within the radiant loving holding of Avalon. A deep clearing in your light body and a consecration of your inner world as Holy. A foot and heart massage is offered during this session also.
Reclamation of Sacred Name Ceremony with IPHM Accredited Sacred Celebrant Jade Dalton (Pre-Booking only)
A deep elemental Goddess blessing to re/claim and honour your sacred name, whether your birth name, an ancestral name, a name through  marriage / divorce / education or your chosen spiritual name.
Honouring and reclaiming your name is a sacred and powerful rite of passage, for empowerment, joy, and to honour the fullness and richness of yourself.
This elemental healing and ceremony is fully gender inclusive and LGBTQIA+ friendly, and is a profoundly supportive ceremony for gender transition or affirmation of any kind.
Pre-booking is required for this healing and ceremony.
Passing Over/Holding of Grief Ceremony with IPHM Accredited Sacred Celebrant Jade Dalton (Pre-Booking Only)
A deeply respectful and healing elemental ceremony to honour and let go of your beloved departed, whether the human or animal kind. A sacred space to honour their life and gently allow grief to be present and released.
The ceremony and healing space is to support your own journey of grief, and unconditional love of your beloved departed, and you will be held in sacred respect, quietness, and kindness as you release all that needs to be released.
This ceremony can be done individually or as a group as part of grieving/funeral arrangements.
Pre-booking is required for this healing and ceremony.
90 min £185
Groups: please enquire for price
Private Tailored Sessions: Taobliss Experience (for women) with Ambika
These personalised sessions are tailored to your specific needs, offering an immersive journey into empowerment and self-discovery.